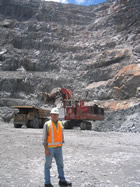 Mining the PNG way
After a flight from Cairns to Mt Hagen, a connection on to a Twin Otter to wing our way through the Highlands of PNG, arriving at a banana-shaped airstrip (imagine the speed-limiting/-enhancing benefits of a shortened runway that is hemmed in on all sides by mountains), one can only be overawed by the spectacular scenery. To then arrive at the Porgera pit, where even the huge 170-tonne trucks are dwarfed by the height of the pit walls, this was a strategic planning project that I'll not forget quickly!
But, boy do those guys work when on site - even our management workshops ran 6am to 7pm, for three days - definitely needed a beer when I got home. It gave me a very different perspective to the FIFO workforce who are based in Cairns.
It has also given me a real insight into the sector, and has inspired me to be deeply involved in the Cairns Chamber of Commerce's Resource & Industrial Taskforce.


Kowanyama Cattle Co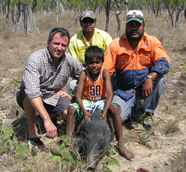 A trip to a cattle station isn't complete without first getting dinner - crack shot Michael Yam (also Chair of the Cattle Company) shows us how. Fortunately (at least for Sargent 4WD Hire) we were in two vehicles, and later said dinner got cooked up for a fair crowd on arrival at Oriners - just so happened there was a cultural workshop taking place.

Now Oriners is not accessible to the public, but if you're looking for a top fishing spot in that part of the Gulf, then you can't go past the Topsy - but you must call the Kowanyama Land Office to book as sites are limited.
Outback Highway

One of the Gormley stick statues in the middle of Lake Ballard, WA - miles from bloody nowhere! That's the Outback Hwy - full of surprises.
This was a fly-drive adventure with a difference - I had the privilege of sharing a flight CNS-PER (the easy bit) then a 4WD PER-CNS (different) with none other than scotsman, John McIntyre! (For those who know John, you'll understand; for those who don't, just think Survivor!). The task: identify the economic impacts and cultural heritage opportunities along the route.
We called into every community, interviewed Council CEOs, the Tjulyuru Art Gallery custodians, the Giles Weather Station, the Min Min Encounter... did I forget to mention there's a big rock out in the middle - and so we played our part in the Cummings report that identified the net benefit of making this an all weather road. 5,000kms and 10 days later we arrived safely back in Cairns.
Check Australia's longest shortcut on www.outbackway.org.au