Jeremy Blockey, Director

Jeremy has worked in economic research and business advisory roles in Tropical North Queensland for the past 22 years.
Since 2002, Jeremy has been providing advisory services to a range of clients, from small business to large corporations, from Indigenous enterprises to regional development bodies, from tourism to mining.
His passion for regional development issues is also played out in his involvement with the Cairns Chamber of Commerce. He is a former President of the Cairns Chamber of Commerce (2007-2010) and a former Director of Advance Cairns (2007-2011), Far North Queensland's Economic Develop Agency. He is also is a Director of Trinity Anglican School, Cairns.

Skills & Experience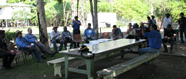 With a background in economics (BSc majoring in Economics), Jeremy has extensive experience in researching, analysing and presenting business cases and issues for clients.
Skills include the following:
• Facilitating strategic planning workshops
• Preparing business plans, including forecast budgets
• Researching and preparing feasibility/demand analysis studies
• Conducting economic impact studies
• Preparing regional economic profiles
• Writing detailed submissions to government
• Preparing tenders and expressions of interest
Work History
Jeremy leapt out of a secure senior management role with Cairns Port Authority in 2002 to get into the business consultancy field. At that time he co-founded The 20/20 Group, but in 2008 moved on to establish Blockey Consulting.
Prior to this, Jeremy worked with Cairns Port Authority (CPA) for ten years, including three years as corporate services manager looking after HR, marketing, environment and administration; four years as assistant to the CEO; and three years as a research and economic analyst. Prior to CPA, Jeremy was with economics consultancy, Cummings Economic Research Services, providing economic and market research services to clients. The firm also provided secretariat services to the Cairns Chamber of Commerce, and Jeremy acted as Secretary to the Chamber for three years.