Approach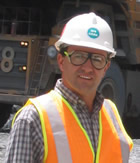 Jeremy likes to help clients at the high strategic level, but combining this with clearly defined practical actions and tasks, so that clients can achieve their goals. He is able to work both with the Board and with staff at all levels to ensure strategic direction aligns with the capability and aspirations of the workforce. 
Jeremy prides himself in his in-depth analysis and eye for detail to provide reports and advice that enable clients to assess project feasibility with confidence or use that advice as the basis for financing, funding or project justification.
In addition, Jeremy can asist clients in dealing with all levels of Government, both at an agency level as well as with Parliamentary Ministers and local MPs.
download company profile (PDF)

Strategy / Planning
Workshops with staff, with Board members, or with community groups - to determine a vision for your organisation, set strategic objectives, or to identify some specific actions, timeframes and responsibilities.
Business planning that helps your business grow, or gets that new enterprise idea off the ground.
Get through the clutter of tenders and submissions to government.
Economics / Research
Research your market, profile your region, understand your demographic.
Need to determine the economic impact of your project as part of a planning approval.
Identify the need for your project or business idea - a demand analysis is the answer.